Beeline Garden Services
'You dream it, we build it' ... 'You grow it, we mow it!'
Call Matt on 01727 839232 to get your project started!
Completed Projects
Have a look through our previous projects. You can click on any picture to enlarge it.
Click the 'Back' button to return to the list
Mr Diamond - Chiswick.
A city garden in need of some outdoor storage space and some TLC! We started by putting in some decking on the rear of the house, adding a shed at the rear of the garden, new turf and then replanting the borders.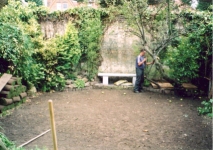 Before, well almost! The garden has been cleared, the shed base is in place and the stone bench installed